VIRUSKILLER™ for premium indoor air quality for dental surgeries.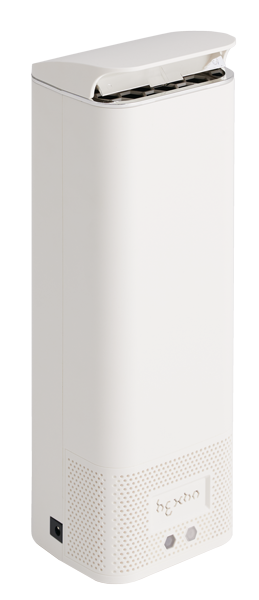 For many of us, a trip to the dentist is a daunting prospect. But in a world where the pandemic has heightened our awareness of the risks posed by enclosed spaces and poor indoor air quality, a dental appointment now sparks very real concerns about our general safety and wellbeing. Given that dentists, hygienists, and assistants need to work near unmasked patients, the teams at dental practices have an even more difficult challenge when it comes to air hygiene and patient reassurance.
As dental clinics welcome a steady flow of patients back into their premises, our indoor air safety technology will provide crucial reassurance and trust for everyone in the practice well into the future.
Radic8 technology is designed for medically sensitive spaces such as dental surgeries. By focusing on the wellbeing afforded to dentists, hygienists, patients, and staff, our devices can be effectively positioned as an essential additional safety measure, particularly as many dental procedures generate aerosols. Investing in indoor air hygiene is a powerful addition to a practice's duty of care procedures, and provides crucial reassurance to patients, their families, and staff.
Highlights at a glance
Reception Areas – R8-VK103
As the point of entry for dental practices, reception areas are prone to a range of indoor air pollutants. VIRUSKILLER™ safely decontaminates the air for the wellbeing of patients and staff.
Dental Surgery – R8-RBK401
During aerosol-generating procedures, microorganisms are dispersed into the air where they linger for hours. A wall-mounted unit between the dentist and patient adds extra protection.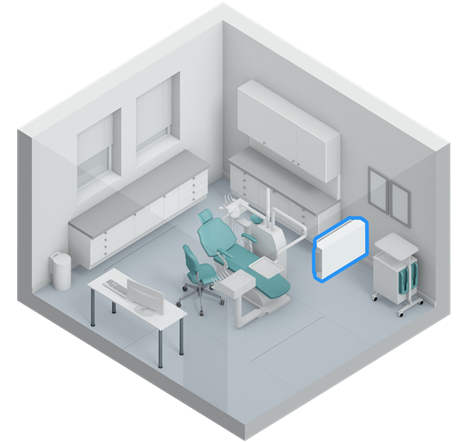 Corridors in dental practices can contain bioaerosols and airborne contaminants that travel through the practice, spreading germs. Wall-mounted provide additional indoor air safety for patients and staff.
Small Offices – R8-HEXTIO
Hextio is the perfect air decontamination unit for personal use, thanks to its powerful fan and advanced photocatalytic oxidation technology developed for VIRUSKILLER™.
Hextio has been proven and tested to:
Deactivate viruses and bacteria with unequalled efficiency
Eliminate high levels of pollution from indoor air
Effectively remove noxious gases and larger particles such as dust, dander, and other allergens
Hextio's airflow hood can be directed towards an individual's breathing space, providing clean, safe air, regardless of their surroundings. With no installation required, Hextio is plug-and-play indoor air safety for people on the move.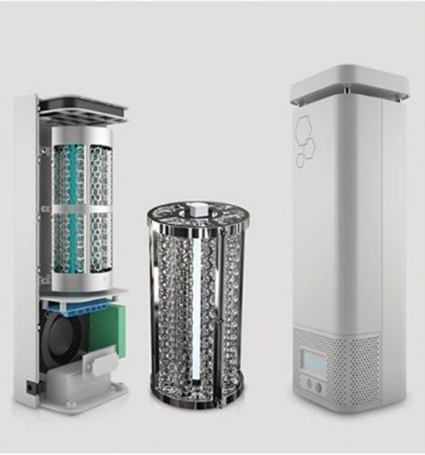 Extra Protection
Radic8 UV-C PCO technology safely decontaminates air and provides additional circulation before, during, and after aerosol-generating procedures.

Reducing Downtime
Clean air delivery can help reduce downtime between patients*, allowing dentists, hygienists, and assistants to treat patients more efficiently.

Reassurance In The Practice
Investing in indoor air hygiene is a powerful addition to duty of care procedures, providing reassurance to patients, their families, and staff.